We've published our Black Power list every year since our founding, and it's become the most anticipated thing we do. Every year, I've intended this list to highlight the beauty of the diversity across our state. I want kids here in Wisconsin to see role models of people who are succeeding, to know that it's possible for African Americans to achieve great things here.
That's exactly what our first four lists accomplished, and what we hope to continue with this year's list.
We can't pretend, though, that this is just another year. The COVID-19 pandemic has had a dramatic impact on our communities — our health and our jobs and our financial wellbeing and our education system, and all of these effects are most pronounced in our Black communities. Add to that the brighter-than-ever spotlight on the injustice of systemic racism — it's been a tough year for everybody, but even more so for our Black communities. 
Many have responded to this extraordinary year by expressing an authentic desire to learn more about Black people, get to know Black communities, celebrate Black excellence. That's what this list is — and has always been — about. This list is no longer just a list. It is also an invitation — an invitation to engage, to create, to make Wisconsin a better place to attract and retain leaders of color.
We have never intended this list to be exhaustive. Obviously, no list has been, because we keep finding more and more dynamic leaders doing real work across the private, public and nonprofit sectors. This list will, however, introduce you to some people you've never heard of who are doing great things in other parts of the state or simply working behind the scenes, doing the work without the accolades.
It was important for us to expand the way we think about influence, and to highlight more of the people doing what it takes to improve their community. That's one reason this list is entirely new every year — we considered anyone named on previous lists to be ineligible for this one, even though most of the people on past lists continue to wield considerable influence.
Over the next five days, I hope you learn something you didn't know about some of the real leaders in communities throughout Wisconsin, and that we might be able to make some connections and start conversations that really move communities forward.
Henry Sanders
Publisher and CEO, Madison365
Dr. Keyimani Alford is Dean of Student Access and Success at Madison College, where he oversees a range of services for students including Financial Aid, Academic Advising, Career and Employment, Transfer Services, Veteran Benefits, Student Payments, Scholars of Promise, RISE programs and the Customer Experience Front Desk team, all with an eye toward equity and equal access for underrepresented student populations. He stepped into that role earlier this year after directing the college's financial support services for more than three years. He spent more than 11 years at UW-Milwaukee directing student services and financial aid. He served as national president of the Delta Psi Chi Fraternity for four years and is currently president of the Wisconsin Association of Student Financial Aid Administrators.
Ashley Thomas is the Executive Director of Hope Street Ministry, an organization that provides housing and healing to about 50 men, women, and children in Milwaukee. She began at Hope Street as a volunteer in 2012 and joined the Hope Street team in December of 2013 as the Operations Director. Hope Street was named Nonprofit of the Year in the 2020 Wisconsin Leadership Community Choice Awards based on the vote of community members across Wisconsin.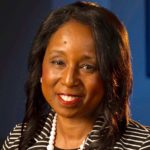 Regina Dunkin is the Community Relations Coordinator for Beloit Health System and the first African American woman to be elected president of the City of Beloit Common Council. For 18 years, she served as executive director of the Merrill Community Center. Dunin has served on over a dozen boards and committees and is currently a member of the Greater Beloit Economic Development Corporation Board & Investment Committee, Health Equity Alliance of Rock County, City of Beloit Appointment Review Committee, Beloit Literacy for Life Initiative, League of Women Voters, Wisconsin Women in Government Board, and Wisconsin State Public Defender Board. Dunkin has been recognized for her outstanding service through various awards and accolades including the School District of Beloit Hero Award, United Way Campaign Coordinator Award, Girl Scouts Volunteer Award, City of Beloit Citizen Award, Janesville School District Martin Luther King Jr. Award, United Way Campaign Cabinet Chair Award, League of Women Voter's Women in Politics Award, Beloit College Warrior Award, Zonta Minnie Mills-Enking Memorial Award, Wisconsin Association of School Boards Award, Congressional Award from the United States House of Representatives, Unsung Hero Award, YWCA Woman of Distinction Award, Big Brothers and Big Sisters Volunteer Award, NAACP Community Award, United Way Campaign Champion 2018,  Beloit College Martin Luther King Jr. Award, and University of Wisconsin Community Award.
Barbara Stewart is the Vice-Chancellor of Diversity & Inclusion at the University of Wisconsin- La Crosse. Prior to becoming the first vice chancellor for diversity and inclusion, she served as the interim vice chancellor for student affairs. Stewart received the Martin Luther King Jr. Leadership Award in 2015.
David Bowen has represented Milwaukee's north side in the State Assembly since 2014. A Milwaukee native, Bowen has been an outspoken advocate for the Black Lives Matter movement and has been openly critical of police departments and their use of force. He is vice-chair of the Democratic Party of Wisconsin and a member of the Milwaukee County Juvenile Detention Alternative Initiative Advisory Committee, Beyond the Bell Milwaukee steering committee. Black Youth Project-100, African American Breastfeeding Network advisory board, State Innovation Exchange, People for the American Way Foundation board of directors, Association of State Democratic Chairs, Young Elected Officials Network, National Black Caucus of State Legislators, National Caucus of State Legislators and Black Millennial Political Convention. 
Alisha and Tydus Hayes opened Pat's Rib Place, named in honor of Alisha's late mother, in Waukesha in 2009. The restaurant expanded from its 1,700-square-foot beginnings in 2018 include more dine-in space to go with its sizable carry out business, which became even a bigger part of the business as the pandemic hit. They've also done good business selling barbecue sauce — a line of business that's even better this year, after Alisha's aunt Oprah (yes, that Oprah) put Pat's House Sauce and Brown Brown Sauce on the list of Oprah's Favorite Things in the December issue of O magazine.
Tyler Whipple is chief of staff for American Family Insurance President and CEO-elect Bill Westrate. In this role, Tyler also oversees the Inclusive Excellence area, which is responsible for leading the company's efforts to develop and implement strategies to advance inclusive excellence as a core value, resulting in a strong culture. Whipple holds a bachelor's degree in history and an MBA from the University of Wisconsin-Madison. 
Rosa Thompson is an advanced learning teacher leader at Schenk Elementary School in the Madison Metropolitan School District and founder of the Black Girl Magic Conference.  Each year Thompson spearheads an effort with girls in grades 4-7 who identify as Black, African-American, and Multiracial to attend a daylong conference to empower one another. Hundreds of girls have attended the conference since its inception in 2018. This year, the event was held virtually and had a live session titled "Self-Care During Quarantine, Loving Yourself and Your Identity, Inspirational Immigrant Stories."
Derius "DJ" Daniels is a team leader for talent acquisition and global mobility at Schreiber Foods and has 15 years of experience creating and developing enterprise-wide talent acquisition inclusion and diversity policies and programs. Before relocating to Green Bay and working for Schreiber in 2010, DJ lived in Atlanta, Georgia and worked for Coca-Cola and AirTran Airways. While at Coca-Cola, he worked on the launch of the University Talent Pipeline program (UTP). One of his primary initiatives was the recruitment of students from HBCUs and other colleges and universities throughout the East Coast. From 2013-2018, DJ lived and worked in Southern California for Schreiber Foods at one its West Coast facilities. DJ has a bachelor's degree from the University of Alabama in Business Management and master's degrees in human resources management and Healthcare Management, both from Troy University in Troy, Alabama.
April Kigeya is the Special Project Manager for the Foundation for Black Women's Wellness. She is also the Outreach Specialist for the UW School of Medicine and Public Health and the Chief Operations Director for Urban Triage, where she is a graduate of Urban Triage's first Supporting Healthy Black Families Cohort. She is also vice president of The Flock, the Forward Madison FC supporter group, and co-founder of Mingo Ladies,  for women who support Forward Madison, and Featherstone Flamingos, a supporter group that works to celebrate and promote Black Culture. Kigeya graduated from UW-Madison with a BA in Legal Studies. 
Tarik Moody is the Director of Digital Strategy at 88Nine Radio Milwaukee and the host of Rhythm Lab Radio and 88Nine After 9. During his time at 88Nine Radio Milwaukee, Moody created 88Nine Labs which works to make Milwaukee's tech scene more accessible for minority communities. Prior to his work in radio, Moody was a practicing architect in Minneapolis and Detroit with a degree from Howard University's School Of Architecture. Moody got his start in radio with the local radio station, KFAI. In 2005, he hosted his own radio show called Rhythm Lab Radio on Minnesota Public Radio. Moody has received various awards from both the Milwaukee Press Club and the Wisconsin Broadcasters Association. Moody also served for 14 years in the Army Reserves.
Part 2 coming tomorrow!